McLaren Scooter (by twinmomfreshed.com)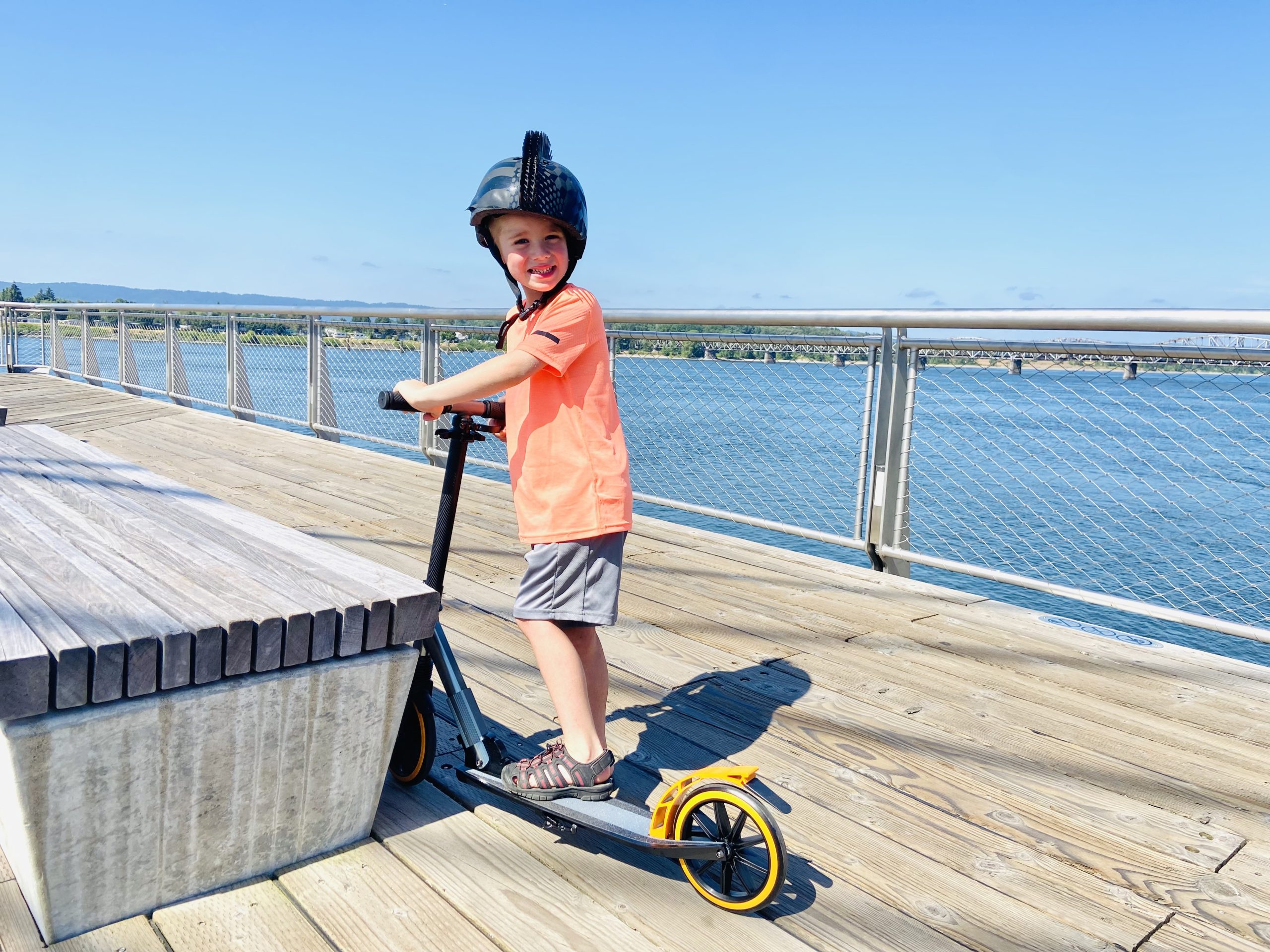 McLaren Scooter Review 
With three active boys, I've tried many different scooters.  The McLaren scooter is a high-quality scooter that offers a smooth ride with a sleek design.
While bikes have many pros, I love scooters for the sheer ease of being compact and lightweight, and the many gross motor benefits they offer kids. 
Scooters offer a great form of exercise and are easy to take to parks, camping, a boardwalk, the culdesac (which we mostly do), and much more. Scooters fit easily in a car trunk and are so portable – which is why I really love scooters!
If you are interested in purchasing a kick scooter, but not sure which one to buy, read the full review below of the McLaren scooter!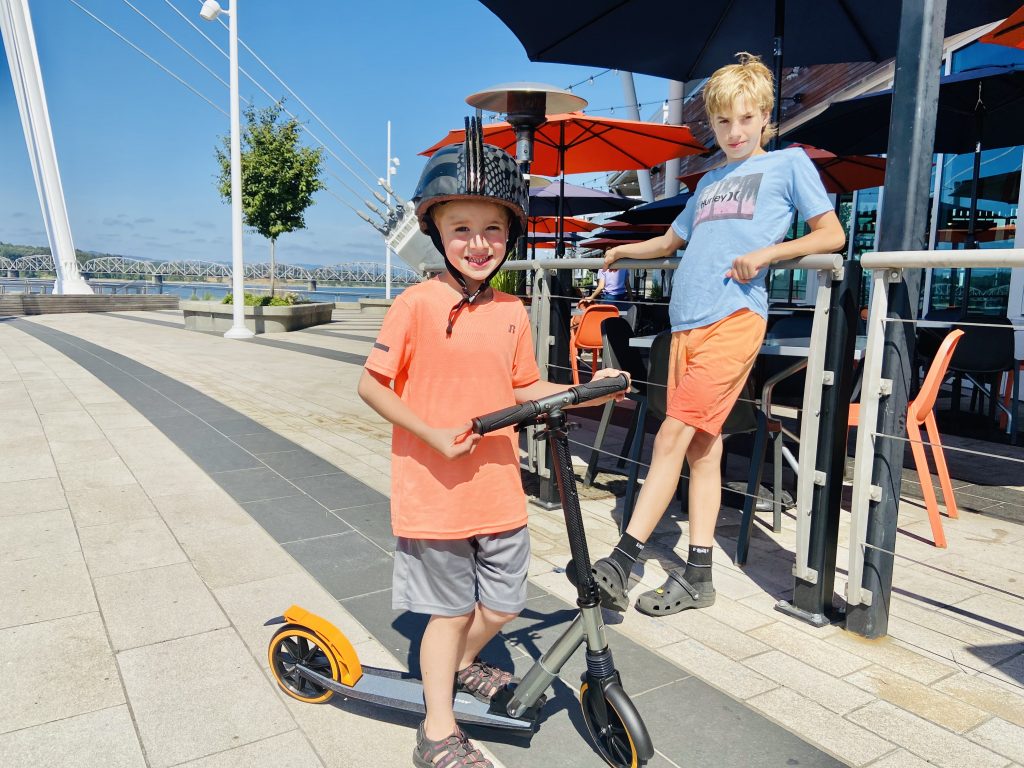 What age is best to ride a scooter?
While my kids first started riding scooters around 3 years old, they really got into it when they were about five or six years old. 
As long as kids have a helmet and are being supervised on an age-appropriate scooter, then go for it if they are into it!  The sooner toddlers or kids learn those motor skills, the easier it will be for them to catch on to riding a scooter.
McLaren has scooters for kids ages 3 years up.
I started my kids on 3-wheel scooters when they were toddlers which were fun and an easy way to learn to ride a scooter. McLaren has a 3-wheel scooter that is perfect for little kids learning to ride a scooter.
As my preschoolers outgrew those scooters they wanted a big kid scooter.  The McLaren McS03 scooter (ages 8+) scooter is something that will last (with three boys), is stylish, and fun for the family!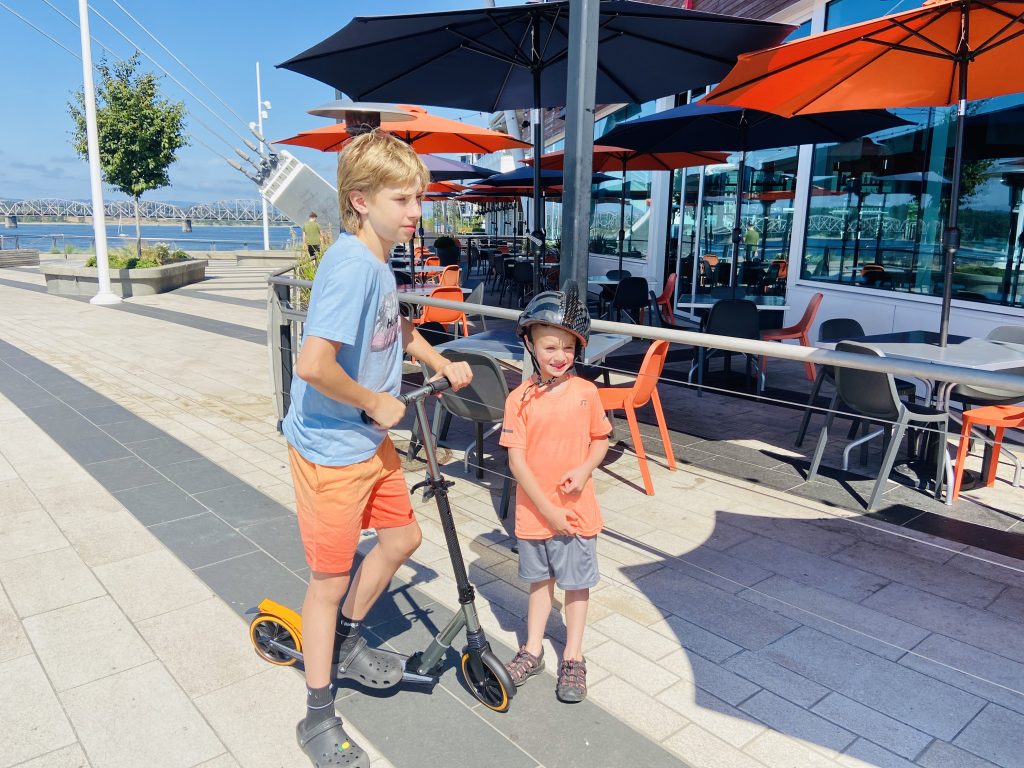 Aluminum construction
Folds down easily for storage
Rubber handlebars for control and comfort
The front suspension system along with carbon speeding bearings makes for a smooth and stable ride over bumpy paths
The adjustable handlebar makes this scooter the best scooter for teens, tweens, and kids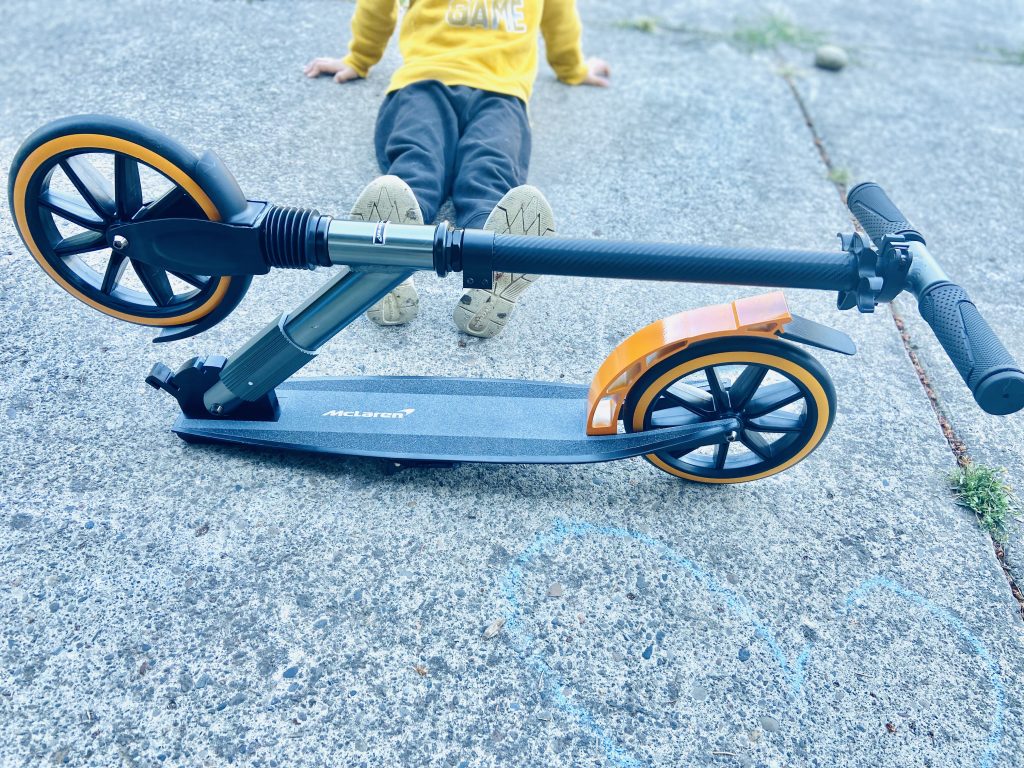 When we first took the Mclaren scooter to the waterfront to test it out, there was a big squabble about who was going to ride it first.  With two preschoolers and a 13-year-old all wanting to ride the scooter first, I already knew this scooter was going to be a hit.
As the kids (finally) took turns riding it down the boardwalk, I knew it was a very smooth and safe scooter.  There was no wobbling and the kids glided down the pavement with ease and excitement.  
We easily adjusted the handlebars down on the scooter for the 5-year-olds, and up for the 13-year-old in a matter of seconds. My 13-year-old easily did this on his own.
When I asked the kids their favorite thing about the scooter, they said it's "fast, cool, and smooth." And the teen said this is the best scooter because it's Mclaren, it's smooth, fast, and has a nice design.
The large 8″ wheels, along with superb quality and design, no doubt makes McLaren an incredibly smooth and easy-to-ride scooter.
Components of the Scooter:
Wheels – The Mclaren McSO3 has high-performance PU casting 8-inch wheels – inspired by their famous counterparts found on Mclaren cars
Handlebar – Rubber handlebars make it easy to grip 
Extruded lightweight aluminum brakes
Front suspension system with ABEC-7 carbon speeding bearings – this helps keep your ride smooth and steady
Kickstand – This scooter has a kickstand which I've noticed most scooters don't have
Aluminum construction
Folding Frame – This makes the scooter compact and easy to travel with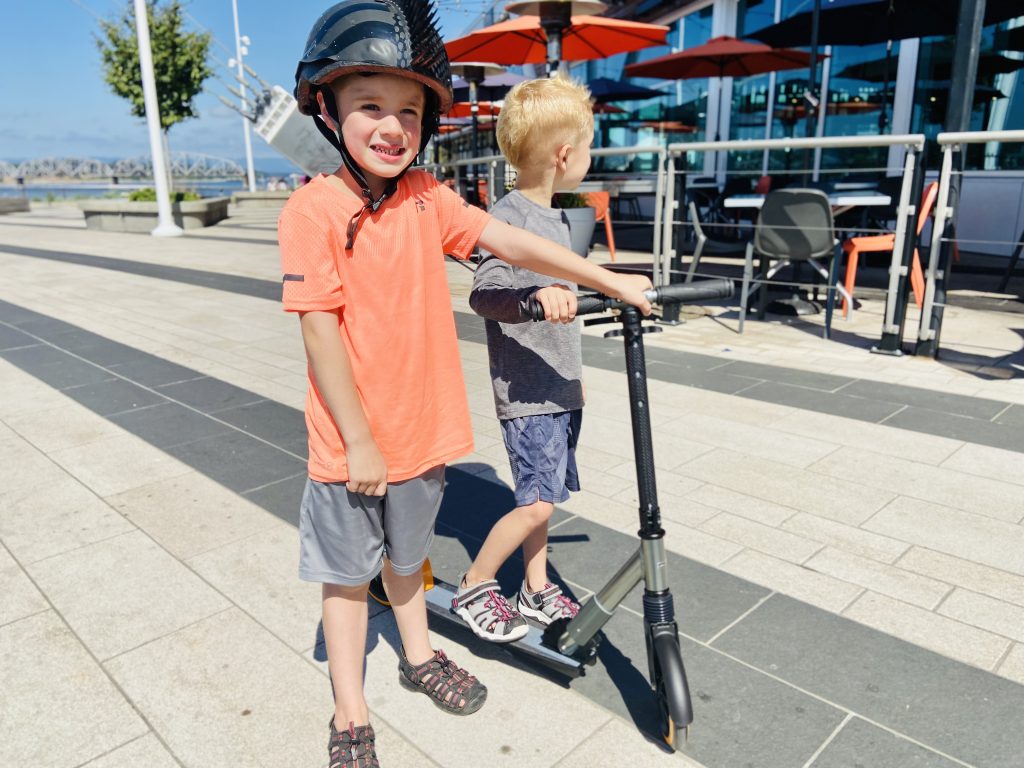 Sizing
Height: Adjustable heights at 30″, 35″, 37″, and 39″ (78 cm, 89 cm, 94 cm, and 99 cm)
Weight Capacity: 220 lbs (100kg)
Age: 8+ (for Mclaren McSO3).  Mclaren offers scooters for kids as young as 3 years old. You can check them out
here
.
At the end of the day, I would not go back to a different brand of scooter. 
This Mclaren scooter fits our family from preschoolers to adults.  With its high-quality parts, sleek design, and high performance, I know this is a scooter that will stay in our family for years to come. 
Many memories will be made with this scooter – and I cannot wait! 
---